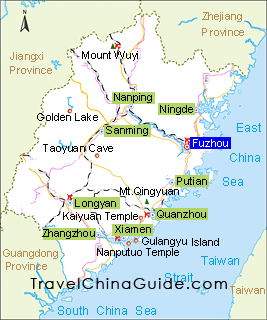 Xiamen Facts
Chinese Name: 厦门市 (shà mén shì)
Population: 4,110,000
Area: Land Area: 157.76 square kilometers (60.91 square miles), Sea Area: 390 square kilometers (151 square miles)
Location: in the southwest of Fujian Province, southeast China
Administrative Division: 6 districts (Siming, Haicang, Huli, Jimei, Tong'an, Xiang'an)
Area Code: 0592
Zip Code: 361000
GDP (2018): CNY 479.14 billion (USD 72.41 billion)

Located at the southeast coast of China, Xiamen is a tourist city of Fujian Province famous for its attractive seascape. As one of the major seaports since ancient times, it boasts a wide gulf with deep water but without freezing and silting. The name was consequently given, which means 'the gate of China'. As one of the forerunners of the special economic zones of China, the city mainly consisting of Xiamen Island, Gulangyu Island, the north bank area of the Jiulong River and Tong'an County, is connected with the mainland by the Gaoji Seawall, Xiamen Bridge, etc. The city has been called the Egret Island because of the hundreds of thousands of egrets inhabiting there. This is due to the beautiful natural scenery, the fresh air and the clean environment of the city.
Attractions
Being of a subtropical monsoon climate with mild weather all year round expect the typhoon months, this city is an ideal tourist destination for you. It is a typical littoral city with abundant tourist attractions such as islands, mountains, temples and parks, etc., providing you with a full sightseeing schedule. The well-known Gulangyu Island, South Putuo Temple, Baicheng Beach and other areas like Jimei, Hulishan Fortress, Wanshiyan, etc. are highly recommended for a tour. A sea tourist line is also available for you to enjoy the amazing scenery of many beautiful small islands around.

Being the hometown of many overseas Chinese, this city has actually benefited from the contribution of overseas Chinese and its economy has undertaken great advancement. To promote its tourism industry, it has established not only the corresponding infrastructures, but also a great variety of entertainment centers. The folk customs of the minorities, varied local festivals and especially the particular local dishes and snacks are also appealing to visitors. This city, with distinct oriental culture and southern Fujian features, welcomes you from all over the world.